This stuffed cucumber kimchi, called oi sobagi, is easy kimchi to make! Being a summer favorite in Korea. It's crisp, crunchy, and deliciously refreshing!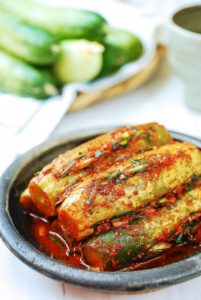 What is your favorite summer kimchi? Oi sobagi (오이소박이), stuffed cucumber kimchi, is a summer favorite in Korea. It's crisp, crunchy, and deliciously refreshing! Oi means cucumber, and sobagi means it's stuffed with a seasoning mix.
What type of cucumbers to use
Needless to say, oi sobagi is best made in the summer when cucumbers are in their peak season. I usually make it with Korean cucumbers I grow in my backyard. When they are in season, you may be able to find them in Korean markets. They are long and slender with thin whitish/pale green skin. The flesh is thick but less seedy than other cucumbers. I love how crisp, juicy, and sweet they are!
When Korean cucumbers are not available, Kirby (aka pickling) cucumbers are the next best thing to use. Always look for cucumbers that are firm and slender.
How to make oi sobagi
As is the case with most kimchi varieties, you'll need to salt the cucumbers first. I use boiling hot salted water. Don't worry, the hot water won't cook the cucumbers. This is the method traditionally used for Korean pickled cucumbers, called oiji, to keep the cucumbers crisp and crunchy for a long time.
Then, make a pocket in the middle by making slits to create 4 cucumber spears that are held together at the end. Traditionally, both ends are left intact, which I prefer. Some people cut straight through one end, only keeping the other end intact. The latter will be easier if that's what you want.