Songpyeon
Half-moon Rice Cakes | 송편
This rice cake is made by kneading non-glutinous rice flour with boiling water, filling the dough with sesame seeds, beans or red beans, forming it into scalloped shapes and steaming it on pine needles. Because grains are staple ingredients in Korea, there are many types of rice cakes. Rice cakes can be cooked for meals, such as tteokguk (sliced rice cake soup) and tteok-bokki (stir-fried rice cakes with gochujang sauce), or may be eaten as desserts, such as injeolmi (glutinous rice cake coated with bean flour) and hwajeon. In particular, rice cakes are an essential part of the menu at Korean family gatherings. Songpyeon is made on Chuseok to thank the ancestors and heaven for the fresh-fruit and grain harvests. Chuseok falls on August 15 according to the lunar calendar, and its meaning is similar to that of Thanksgiving Day.
Dough
2 cups short-grain rice flour* (8 oz, 240g), 1 cup boiling water, Sesame Filling, ½ cup sesame seeds (1½ oz, 45g), ⅛ cup honey (1⅔ oz, 50g) or 1 tablespoon sugar
Bean Filling
1 cup fresh black beans (7 oz, 200g) (or ½ cup dried black beans (3½ oz, 100g)), ⅓ teaspoon salt, pine needles, sesame oil as needed
*Preparation for short-grain rice flour
Soak 1 cup (8 oz, 225g) of short-grain rice in 2 cups of cold water overnight. Drain them using a sieve and let stand on the sieve for 30 minutes. Then, add 1½ tablespoons of water and grind them finely.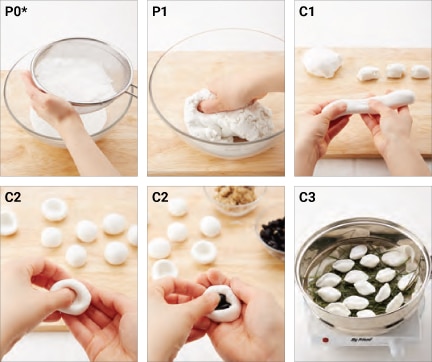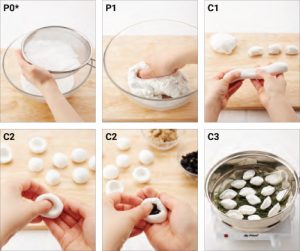 Add boiling water to the rice flour and knead well until smooth dough forms. Let the dough rest in a plastic bag for 30 minutes.
To make the sesame filling, toast the sesame seeds in a frying pan or oven and crush. Mix them with honey to form paste.
To make the bean filling, mix beans with salt. When using dried beans, rehydrate before using.
Separate the pine needles from the branches and get rid of black tips. Rinse well and drain in a colander.
Make balls out of a small piece of the dough about the size of a chestnut.
Using your thumb, press gently in the middle of the doughball to form a well or depression, and fill them with sesame filling or bean filling using a spoon. Seal the well making sure filling doesn't leak out and mold into a shell or half-moon shape.
Spread fresh pine needles on the bottom of the steamer. Place songpyeons (half-moon rice cakes) on the pine needles and arrange fresh pine needles between layers of songpyeons so they are not touching each other.
Steam songpyeons for 30 minutes until they are cooked well. Remove songpyeons from the steamer.
Gently remove pine needles from songpyeons. Add sesame oil and toss to coat songpyeons. Place them in a serving plate.
A subtle scent of pine needles from the steamer on which songpyeons are steamed is this dish's appealing point. However, when pine needles
are unavailable, a steamer with wet cotton cloths may be used. Coloring ingredients such as mugwort is added to the rice flour.